FAN ART COMPETITION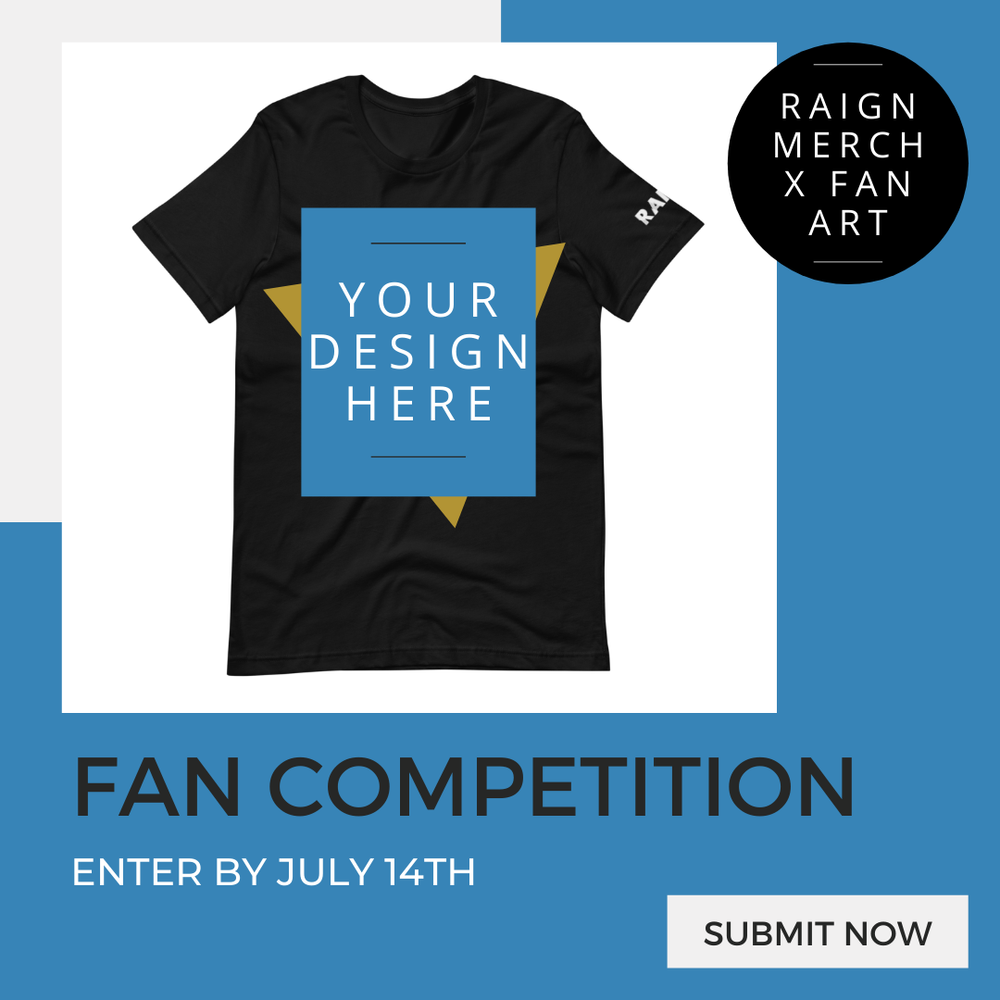 RAIGN MERCH X FAN ART MERCH
DO YOU LOVE ART TOO? Are you a graphic illustrator or designer AND a RAIGN fan?
Here's your chance to have your art featured on a whole merch collection, just like RAIGN's new DLMG x Vampire themed Pack.
Design a piece of art to go on RAIGN's merch - something awesome and unique to you that is inspired RAIGN's music. 
The lucky winner will also get a free T-shirt and poster featuring their winning image.
The ART...
Perhaps you love graffiti style illustration and want to turn one of RAIGN's album covers into a stunning graffiti print - or maybe you're really good at realism and want to design a landscape for one of her songs. whatever you do make sure it would look good on a T-shirt!
Let your creative juices run wild and send your finished designs before August 10th.
All submissions will be reviewed and judged by RAIGN and guest judge Bernice Chao Miller, a Los Angeles based Creative Director at R/GA with advertising clients that include Google, AirBnb and Frito Lay.
Terms and conditions
- Art must be submitted in PNG format on a canvas of 5400 x 4600 pix and 300dpi. Winners will be required to provide layered PSD files. 
- You cannot use copywritten images or images that belong to someone else.  Canva pro elements are fine as long as you have a Canva Pro subscription.
- You cannot write any lyrics or famous slogans in the art, only song titles are copyright-free and usable. 
- You must use print-friendly colors. The final version of your print file should be saved in the sRGB color profile sRGB IEC61966-2.1. You can set the color profile in the image editing software you're using.
- Photography does not print well, so if you are a collage artist please do not use photos. 
- You cannot draw life-like images of famous characters, but you CAN illustrate RAIGN's likeness or anyone you have made up or have the right to illustrate. For example, a vague image of a superhero is fine but you can't illustrate Superman or a Disney character without a license, even if you adapt them. 
- By submitting your art you agree that should you win, you will transfer RAIGN /Millionaire London Records the full license and copyright to the art, giving them the right to print, use, sell, replicate and amend the art in any medium in perpetuity.